Posted by diesel on 26 Jan 2011 at 08:43 pm | Tagged as: brewery tours, images, links
Westbrook Brewing might be South Carolina's newest brewery but it's certainly not its smallest. With the first batch brewed on Thanksgiving, Founder Edward Westbrook and Head Brewer Smith Mathews are now crafting some tasty beers in Mount Pleasant across the bridge from Charleston. I assisted Smith on Edward's favorite Belgian Pale Ale recipe. Other beers in their lineup currently include White Thai a Belgian Wit with some novel spices, a smooth Belgian Tripel with a nice hop character and an IPA that is sometimes American and sometimes pleasantly twisted with their Belgian yeast. Barrels just arrived at the brewery and they have exciting plans for aging all sorts of beers in them. The experimentation doesn't stop there, currently a Lichtenhainer is in the works, a little known German beer that combines elements of wheat, smoke and sour.
Westbrook's brewhouse is a 30-barrel system with a steam jacketed kettle. Energy efficiency is always a concern in brewing. Westbrook reclaims thermal energy by directing the outlet of the wort chiller to the hot liquor tank. The water heaters pump water through solar panels on the roof.
Multitasking is key to getting everything done on brewday. This bucket of creamy sludge is some healthy yeast from the slurry to be tested for viability and counted to determine the pitch size.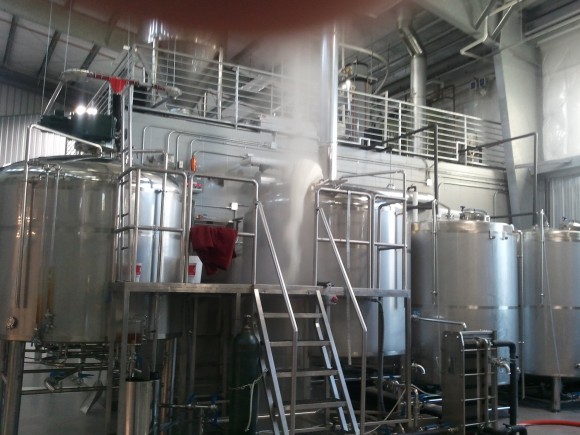 Point of Safety: During the boil don't lean against the kettle doors. When opening the kettle doors stand back, certainly don't have your face near them. Boilovers will happen.
Westbrook definitely has room for growth. Plenty of space for more fermentors, the lab they are building gives a brewer some nice quality control toys and the tasting room is just a few weeks away from completion.
Fermentation Vessel 2 is being cleaned. Once it's been sanitized the yeast pitch will be pumped from another FV into it prior to pumping the chilled wort.
One business's waste becomes supplies for another. Like many small brewers the spent grains are passed along to farmers to be used as animal feed.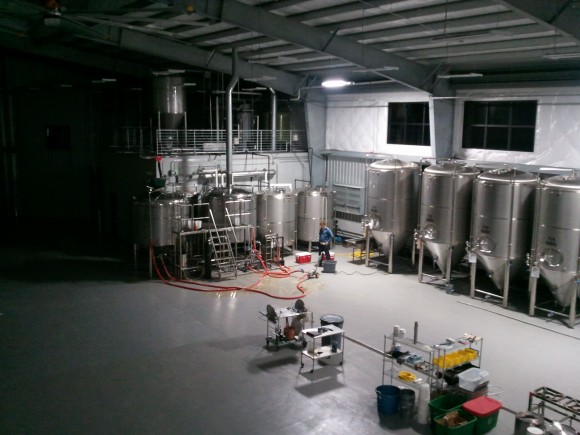 People think brewing is a glamorous, rock star profession. Really it's mostly janitorial work. Most of our time is spent cleaning, but at least frequent beer tasting is a job requirement.
If you're in the Charleston area, look for Westbrook beers wherever they serve good beer around town. Hit up the tasting room which is opening soon and has 20 taps. For food after Foster's Pub is down the street, good food, great staff and the owner Greg loves giving people samples to promote great beer. Their jalapeños stuffed with blue cheese and wrapped in bacon are off the hook.
Westbrook Brewing: http://westbrookbrewing.com/
Foster's Pub: http://fosterspub.net/
More photos in the gallery: Click Here!
One Response to "A Brewday at Westbrook"
on 16 Feb 2011 at 6:15 pm Matt




Thanks for the great pics! Good to hear from you again – are you working a steady gig now or hatching plans?
Leave a Reply